Accommodation: Studio apartmani Petkovic
Tivat, Montenegro
category
category
category
Number of views: 253020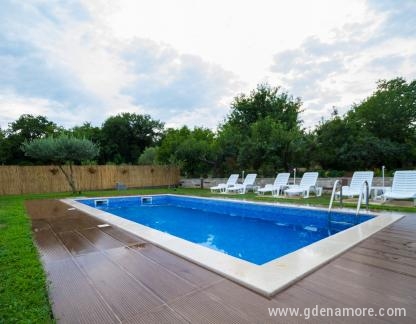 Apartment:
Room:
Studio:
Whole object
Our apartments offer perfect stress-free, relaxing stay for leisure travelers and business alike.
Set in a quiet residential area, only minutes drive from Tivat International Airport, Tivat downtown and beach Kalardovo. For those in a good shape and in love with nature, Vrmac hill is also minutes away.
Studio apartmani Petkovic is a family run guesthouse providing friendly and casual atmosphere with plenty of local information and advice.
Free parking is available on site.
And for our youngest guest there is a playground where they can safely play while you enjoy your coffee on the terrace or by the pool.
Legend:
All rooms, apparments
Some rooms, apartments
No
Capacity:

17

Seaview:
Water 24h:
Bathroom:
Kitchen:
Room service:
Safe box:
Large terrace:
Balcony:
Air conditioning:
TV:
Cable TV:
Internet:
Telephone in the room:
Parking:
Garage:
Pool:
Suitable for children:
Pets allowed
Suitable for disabled people:
Characteristics of accommodation
Legend:
All rooms, apparments
Some rooms, apartments
No
Capacity:

17

Seaview:
Water 24h:
Bathroom:
Kitchen:
Room service:
Safe box:
Large terrace:
Balcony:
Air conditioning:
TV:
Cable TV:
Internet:
Telephone in the room:
Parking:
Garage:
Pool:
Suitable for children:
Pets allowed
From the center:

200 meters

From the beach:

2000 meters

From bus station:

2500 meters

From airport:

3000 meters
From ambulance:

3500 meters

From restaurant:

1500 meters

From sports fields:

2500 meters
Prices and payment options
Payment options:
Cache:
By bank transfer:
Credit cards:
In Pre-season

po dogovoru

In high-season

po dogovoru

In post-season:

po dogovoru

Out of season:

po dogovoru
Studio apartment consists of room with double bed plus folding sofa for two, separate kitchenette with all amenitie, bathroom, terrace. Extra bed is possible at surcharge.

More

Apartments consists of two bedrooms, one with double bed, other one with double plus single bed. Separate kitchenette with dining area, bathroom, big terrace. Extra bed is possible at surcharge.

More

Room is located on the first floor and has double bed plus folding couch, wardrobe, access to shared bathroom and kitchen.

More
Updated: 06/17/2020
Powered by GdeNaMore.com